Editor of the Guardian Travel supplement Gemma Bowes, writes about how cycling is the new rock n roll and quoted Saddle Skedaddle in her travel news round-up: From a life-long gap year to cycling, the new rock'n'roll.
Here's what she / they said :
"Sales are up 20% for the year overall, and we've had our best ever July and August [so far]," said cycling tour operator Saddle Skedaddle (0191 265 1110) www.skedaddle.co.uk), which offers cycling and mountain biking trips around the world for riders of all levels.
It has just opened a cool Cycle Hub shop, workshop and cafe too, in Newcastle (Quayside, 0191-276 7250  thecyclehub.org), handy for people riding the Coast to Coast and Hadrian's Cycleway Sustrans routes.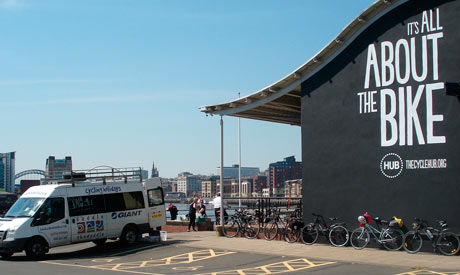 Skedaddle's new cycle shop and cafe in Newcastle
For her full article click here
Saddle Skedaddle Cycling Holidays won the Best Short Operator in the Guardian / Observer Travel Awards in 2011- Check the awards out here